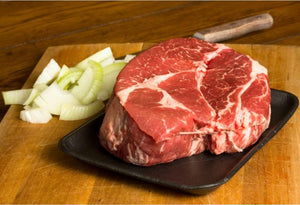 100% Grass-fed Bone-in Beef Chuck Roast. Weighs 2-5 lbs. See Variences when ordering below. This is a great cut for stews and slow cook roasting.  Please keep in mind that the chuck roast cut is a fattier cut of meat and sometimes has a bone.  The large 5 lb cuts are larger then the normal crockpot and do have a bone.
This product comes packaged frozen and uncooked. 
Our beef is raised by rotational grazing and environmentally sustainable practice with no hormones, or chemicals, or routine medications.  We do not finish our beef on grain.  Each one of our animals are raised on a pasture based, beyond organic, local farm to market model that heals the land, heals the food, and heals the culture one bite at a time.
Get an amazing recipe at this link.