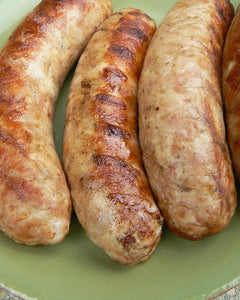 Delicious chicken brats. 5 brats per packs. Enjoy our three flavors.  Easy to throw on your grill or pan fry for a quick dinner option.
This product comes packaged frozen and uncooked.
Our chickens are raised on rotational grazing and environmentally sustainable practice with no hormones, or chemicals, or routine medications.  Each one of our animals are raised on a pasture based, beyond organic, local farm to market model that heals the land, heals the food, and heals the culture one bite at a time.