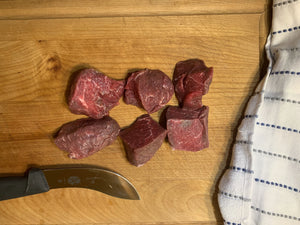 Grass-fed and finished beef steak tips. Cut into approximately 2-3inch cubes.  Packs range from 3-6 cubes of meat, depending on how the butcher cuts them. Perfect for beef tips and gravy.  0.9-1.1lbs packs.
This product comes packaged frozen and uncooked. 
Our beef is raised by rotational grazing and environmentally sustainable practice with no hormones, or chemicals, or routine medications.  We do not finish our beef on grain.  Each one of our animals are raised on a pasture based, beyond organic, local farm to market model that heals the land, heals the food, and heals the culture one bite at a time.