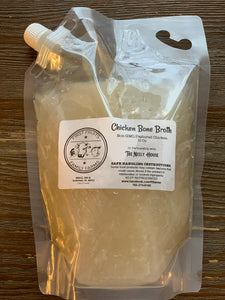 Chicken Bone Broth from pasture raised chicken bones.  This highly nutritious stock is commonly used in soups, sauces and gravies. It is also amazing as a healthy drink.  Bones are roasted with carrot, onion, celery, peppercorn and garlic. 
This product comes packaged frozen.   
Our chickens are raised on rotational grazing and environmentally sustainable practice with no hormones, or chemicals, or routine medications.  Each one of our animals are raised on a pasture based, beyond organic, local farm to market model that heals the land, heals the food, and heals the culture one bite at a time.