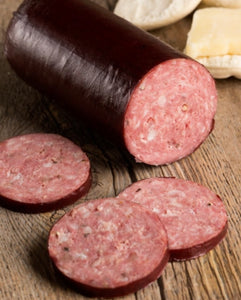 Our summer sausage is made from our grass-fed beef and pastured pork.  It is amazing with cheese and crackers as a healthy snack.  It has no preventives or nitrates. Packages are 0.8-1.2
Ingredients: Beef, Pork, water, salt, spices, sugar, paprika, beet powder, baking soda, garlic, crush red pepper, cayenne pepper, celery powder.  
 This product is smoked with real hickory wood and is ready to eat.  No cooking required.